SMILES TO REMEMBER
Hudson and Ho Orthodontics
Beautiful smiles, efficiently created, at an affordable price
Schedule a free consultation
Hudson and Ho Orthodontics
We care about your smile and we also care about you personally! Every person who walks through our door joins our family. So we aim to make it convenient and easy for you to get the smile you deserve.
Affordable and Flexible Options
We make orthodontic treatment affordable by offering flexible, personalized, 0% interest payment plans.
Family first approach
Every patient is our priority because every patient is a member of our Hudson family.
Cutting edge technology
We utilize the latest technologies to ensure patient comfort and to streamline treatment progress.
Customized Individual treatment
With expertise in traditional and modern orthodontic methods, we tailor each treatment plan specifically to you.
MEET THE TEAM
Our team consists of the most experienced, caring, and conscientious people in the area. We can't wait to meet you!
ABOUT THE MEMBERS
WHAT MAKES US UNIQUE
Established in 1934, our office has been deeply rooted in Glendale, serving the
city and its surrounding communities.
Experience
We've been creating beautiful smiles since 1934. Now serving the fourth generation of some local families
Board Certified Orthodontics
Only 30% of orthodontists are Board Certified. We are committed to offering the highest quality treatment to every patient.
3-Dimensional Imaging
Using the i-CAT FLX, we are able to perform a comprehensive 3D analysis of every patient with very low radiation exposure.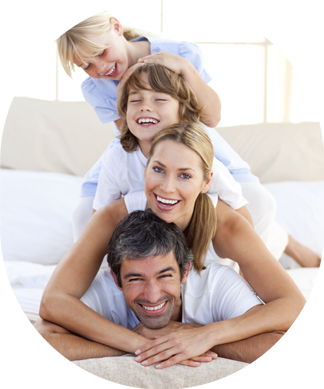 INVISALIGN MADE EASY
Invisalign patients no longer need those uncomfortable impressions. We can do a quick digital scan of your teeth so that we can start developing the perfect plan to create your new smile. The best part is you'll be able to see your potential smile the same day!
Propel VPro5
Improved comfort and accelerated tooth movement up to 50%.
Convenience
Located off the 134 freeway, we have our own private parking lot and convenient hours.
Seconds or less is all the time we need to have a 3D image to evaluate your teeth, airway for breathing, and skeletal harmony.
Years old is that age that the American Dental Association recommends seeing an orthodontist
Percent of orthodontists are board certified
Years old is the average age a child fully transitions from baby teeth to adult teeth
Invisalign
Braces
Early Interceptive Treatment
Teenage and Adult Treatment
Sleep Apnea
Invisalign
Invisalign is a very effective and esthetic option to straightening your teeth. When we start treatment we use the latest technology to take a digital scan of your teeth, which allows us to show you a simulation of what your smile can look like. Schedule a free consultation to see if it is right for you!
Braces
We use either traditional metal or clear braces. We design our treatment so that braces are only placed when they are needed. That way, your oral hygiene will be easier to maintain and your experience as comfortable as possible. We would love to meet with you to discuss getting you the smile you deserve!
Early INTERCEPTIVE TREATMENT
The American Dental Association recommends that children see an orthodontist as early as 7 years old to evaluate facial growth, discuss oral habits, and evaluate tooth position and space. Sometimes, early treatment is needed during this time to create/ maintain space for the adult teeth or correct bite relationships so that facial growth is normal and symmetric. We want what is best for your child and offer free consultations to evaluate if early treatment is necessary.
TEENAGE AND ADULT TREATMENT
For teenagers and adults, all baby teeth should be lost and it is the perfect moment to start orthodontic treatment to bring the adult teeth to their optimal position. We would love to be part of the process of getting you a smile that gives you confidence. Feel free to schedule a free consultation so that we can get to know you and discuss what is best for your smile.
SLEEP APNEA
We provide a 3D volumetric airway analysis for every patient to see if there is anything hindering your ability to breathe normally. We do this for all of our young patients to hopefully prevent any future sleep apnea. For adults, if you snore or have been diagnosed with mild, moderate or even severe sleep apnea, we can help. Schedule a consultation so that we can discuss what is best for your sleep and your health.
Back
WHAT TO EXPECT
NEW PATIENT FORMS:
Save time by filling out the necessary health paperwork before you come in for your consultation appointment.
FREQUENTLY ASKED QUESTIONS:
Have any questions that you're not sure of? No problem! Please look through our FAQs and if your question is not answered feel free to contact us.